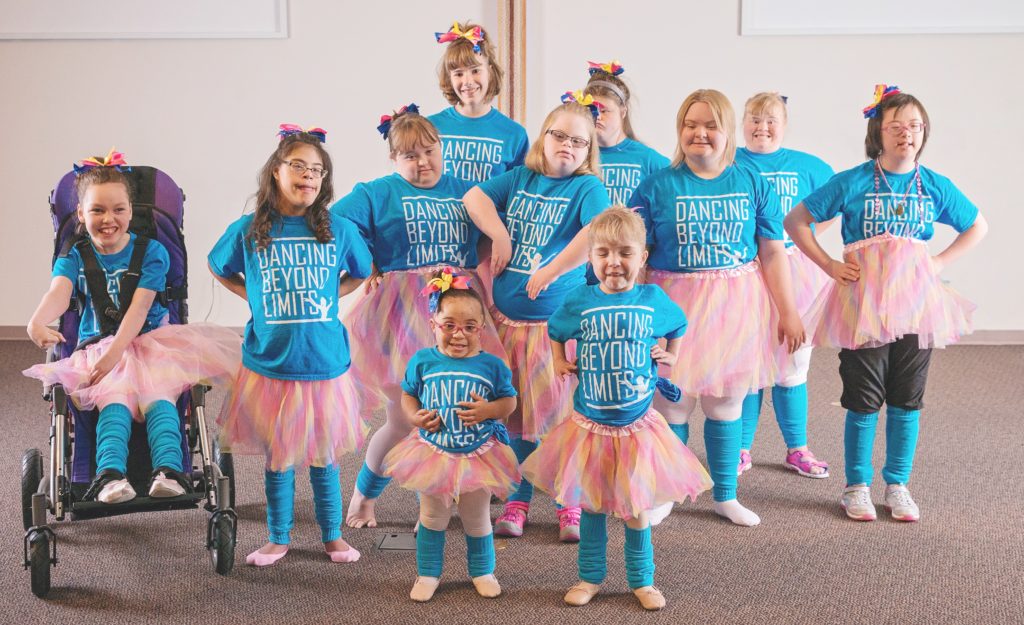 Fall Classes:  Come 'Shine!' with us in our 5th year of Dancing Beyond Limits
Dancing Beyond Limits presents two eight week adaptive dance sessions targeted for ages 5-21
Cost = $65 ($45 registration + $20 costume*)
Omaha "Bella Dance" Troupe:  Sundays, 4:00-4:45pm
Hosted at Fusion Dance Studio (168th and Harrison)
October 2nd-December 4th (no classes October 16th, November 27th)
Lincoln Dance Troupe:  Mondays, 6:45-7:30pm
Hosted at Madonna Proactive (56th and Pine Lake)
October 3rd-December 5th (no classes October 17th, October 31st)
How to sign up:  All dancers must register by completing the online "google form":  https://goo.gl/forms/K3wQxaAOWdPA4iyp2
Volunteer as a dance buddy: Make a friend and make a difference!
Are you a therapist, nurse, Allied Health Student, dance teacher, or dance student?  Dancing Beyond Limits needs your help!   Dance experience is not required.   When you volunteer as a dance buddy, you will have the opportunity to pair up with a dance student with special needs to maximize their safety, participation, and fun in dance class!  We are in need of volunteers for our eight week sessions in both Lincoln and Omaha.  All volunteers must participate in a 1 hour training session 1 week before our first class begins and will also be asked to complete a background check.
Lincoln DBL…  Mondays at Madonna Proactive from 6:45-7:30pm. Training September 26th.  Session runs October 3rd-December 5th (no class on October 17th & October 31st)
Omaha DBL… Sundays at Fusion Dance from 4:00-4:45pm.  Training September 25th.  Session runs October 2nd- December 4th (no class October 16th and November 27th)
By committing to be a buddy, we hope that you will be able to attend a majority of classes to provide continuity for our dancers.  Please inform us of any planned absences using the form below.
We recommend that our volunteers are a minimum of 15 years old, but special considerations may be made for peer buddies with completion of an interview.  Please email [email protected] if volunteer is under age 15, but would still like to be involved.
How to sign up:  Volunteers can sign up by completing the online "google form":  https://goo.gl/forms/98K262utO0GeOWeb2
How can I donate?  Your tax-deductible gift to Dancing Beyond Limits goes directly toward the DBL mission and vision.  Giving statements are mailed after the first of the year.